Seeing the potential in people is something that A Place At Home co-founders Dustin Distefano and Jerod Evanich are passionate about.
Especially when it comes to their employees, they've always envisioned a career path for those under their employ. Before starting a senior care company, Dustin came up professionally through the career path set in place at Enterprise Rental. In their model, everyone started as a management trainee and moved their way into the career. "That was our mindset for all our employees – that we could have caregivers move up through the ranks at A Place At Home."
Enter Danielle Sloan.
In 2015, Danielle was a 23-year-old first-time mom working as a certified nursing assistant (CNA). When she came across a job posting for an evening on-call position with an emerging in-home care agency, she applied. At the time, she was looking for a way to bring in a little extra money, sharing, "I was just trying to get by in life, honestly. I had just had a baby, and I was just trying to make sure the bills were paid."
She was hired for the position. Soon after that, she was working full-time with A Place At Home as an in-home caregiver. While neither Danielle nor Dustin could foresee where this would lead in the future, the career path that Dustin envisioned was already set into motion. A few months after Danielle started with A Place At Home, a position as a Senior Services Coordinator opened up. She applied and found herself working in the office full time, matching seniors with their caregivers and managing their schedules.
The role was intensive and required a sharp mind, compassion, professionalism, and stellar organizational skills. All things that Danielle had in spades.
Fast forward a year and a half, Dustin approached Danielle about another opportunity. She had been helping out with billing and payroll for the agency and managed clients, caregivers, and staff well. However, Dustin was seeing more and more potential and wanted her to learn more about the backend of the business. Danielle caught on quickly and was offered the role of Assistant Manager for A Place At Home- Omaha. She accepted the position and eventually moved into the role of Human Resources Director. Then, in 2017, Dustin and Jerod started franchising their model of care. With this, they sold the Omaha office, and Danielle began working under the new owners as their Office Manager and helping the new owners navigate the waters of owning and operating an in-home care business.
None of this was her plan when Danielle first applied to work with A Place At Home. At the time, her career path included ambitions of being a Registered Nurse. She'd already completed all of her coursework to attend the LPN program in Omaha. Under Dustin's leadership, however, things changed, "Dustin believed I could be more, saw my strengths and grew them. As I started to evolve professionally, I've found my niche in operations and finances, and I'm leaning into that path."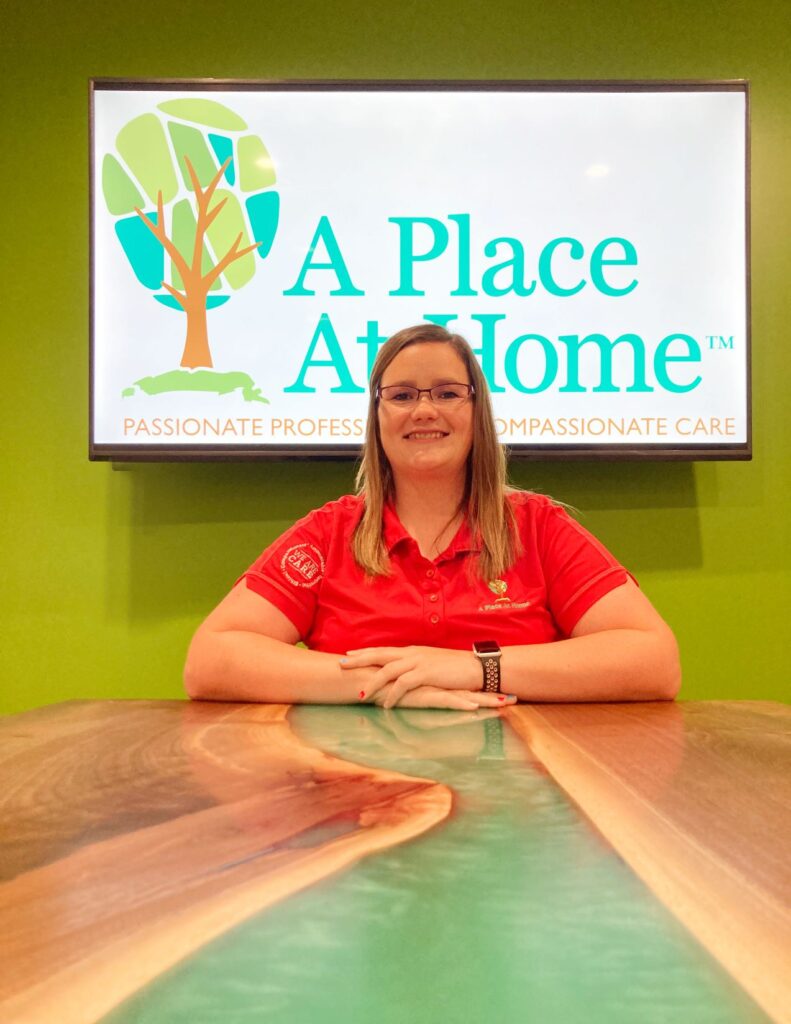 For business owners within the APAH franchise system, it's been a boon that Danielle has leaned into this path.
Earlier this year, she was offered yet another position within A Place At Home. This time, working in the corporate office as the Operations and Financial Support Specialist. Now, she's supporting franchisees across the country, helping them with their business operations and finances. It comes as no surprise; she's excellent at it. She's working directly with APAH's Director of Business Performance, William Ogden, who says, "Dani Sloan has been an integral part of A Place At Home for six years now, and now she's here with us in the corporate office. I can honestly say how excited I am. She is helping me and others; she's where she needs to be." The business owners Danielle is working with agree.
"I have to point out that Dani is just a gem. There isn't a question she can't answer or a thing she can't do. She's held my hand big time over the past few weeks, and no matter what's going on, she always says she has time for me. If it weren't for Dani, I'd be losing it, but she's so knowledgeable and available that it's made it all doable." – Dina Jenney, owner of A Place At Home – Philadelphia West.
While Danielle was the first caregiver to move into a different role and work her way up into management within the agency, she won't be the last. She says that growth for other caregivers within the APAH system is absolutely possible. You can go from being an outstanding caregiver to working in the office if that's your ambition. Her advice is to let your manager know that you're interested in moving forward in a different capacity. Offer to learn and be a part of the on-call rotation. But most importantly?
"Don't be afraid to try new things. Go outside of your box. Go outside of your comfort zone."
A Place At Home is always welcoming ambitious, compassionate, and empathetic people to our team. If you or someone you know has a passion for helping others and ambitions to make a career out of it, reach out to one of our locations to apply and schedule an interview!