Aging Seniors Face Loneliness and Depression
Many elders experience loneliness and depression, either as a result of living alone or due to a lack of close family ties and support. The National Institute of Mental Health (NIMH) reports that elderly depression is not only widespread but "a serious public health concern." Recent research suggests that as many as 15% of elders – that's 6.5 million Americans – suffer from depression.
Spreading Senior Smiles for Miles
Just as with anyone else, seniors need human interaction and connection. They need a community of people that gives them a sense of belonging. To help combat senior depression, we have launched Operation CARE – a mission committed to making a difference in the lives of seniors all across the nation. Help us achieve our mission by carrying out CAREQuests every week. CARE Quests are small acts of kindness which encourage quality time with seniors. From dancing with a senior to calling an aging loved one, CAREQuests only take a few minutes out of your day.
 CAREQuest of the Week
Join us every Monday at 12 p.m. CST as we release the CAREQuest of the week via Facebook and LinkedIn.
To reward you for helping us carry out Operation CARE, we are also giving out a $50 Amazon gift card! Simply follow the rules listed below for the chance to win.
Operation CARE Challenge Rules:
Tag four friends that you want to complete the CAREQuest.
Take a picture or video of you completing the CAREQuest and share via Facebook, Instagram, or LinkedIn.
Thanks for helping us spread senior smiles for miles!
 Week 1 – Game With A Senior
Stimulate a seniors mind by playing your favorite games.

 Week 2 – Dance With A Senior
Turn up the tunes and shimmy, cut a rug, jive, salsa the day away.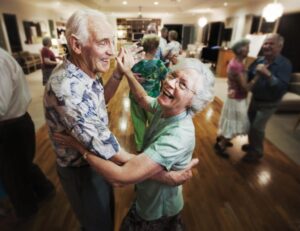 Week 3 – Call A Senior
Take a few minutes out of your day to give a senior loved one a call.
 Week 4 – Send A Senior A Letter
Let an aging loved one know you care with a sweet message.