January is National Bath Safety Month, making it the perfect time to evaluate your and your loved one's bathroom setups and assess the safety conditions. 
5 Bathroom Safety Tips for Seniors
With sharp countertop and cabinet corners, slick floors, hard surfaces, and a lack of handles or supports, bathrooms pose a substantial risk for seniors to experience a slip or fall. As nearly 230,000 injuries are reported each year due to mishaps in the bathroom, we have outlined five bathroom safety tips and precautions to help reduce the risk of injury or fall in the bathroom. 
Install Grab Bars and Non-Slip Strips
The average bathroom is typically not equipped with proper handles and supports to help one move around a bathroom. While you may find yourself grabbing towel bars or shelving for balance, these are not intended to hold weight over 5-20 lbs. Installing grips and grab bars near the toilet, in and around the shower or bathtub, and throughout the rest of the bathroom are the perfect aid for leverage, balance, and maneuvering around the bathroom. 
As there are many forms of grips and grab bars on the market, it is best to opt for wall-mounted options, as suction-cup options tend to come loose or slide down over time. When installing, walk through your loved one's routine to find the best location and distances to place the grips and grab bars.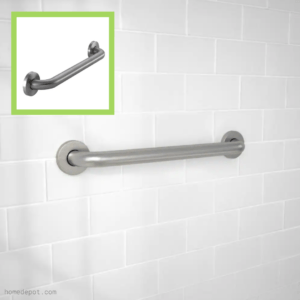 Slick floors in the shower or tub are also a leading cause of falls in the bathroom. Installing non-slip strips help eliminate bulky shower mats and the risk of the mat's suction cups from coming loose. Non-slip strips adhere directly to your shower or tub and provide a textured, grippy surface to stand on.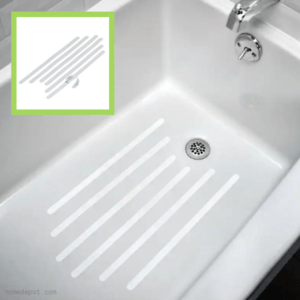 Keep Bathroom Essentials Easily Accessible
Bending down or reaching up for bathroom products and essentials has also become a leading cause of injury in the bathroom. Bending down can result in hitting your head on countertops, shelving, shower fixtures, or the toilet while reaching up can result in knocking items down onto oneself or falling down from shifting weight to one side as you reach. Additionally, storing shampoo and other products along the edge of the shower or tub can pose a risk of falling while entering/exiting the shower or tub. All necessary bathroom and hygiene products should be kept within easy reach and free from clutter.
Raise the Toilet Seat
Similarly to bending down for bathroom products, bending down and squatting to use the toilet may become challenging. Installing an elevated toilet seat is an optimal solution to elevate the hassle of transferring on and off the toilet.
Much like the grab bars, it is important to install a raised toilet seat suitable to the space allotted and the mobility of your senior loved one. When choosing an elevated toilet seat, opt for seats that offer a more permanent and secure option. While these options may require more installation, elevated toilet seats that adhere or install directly onto your existing toilet are best, as opposed to the options that are simply placed over the toilet.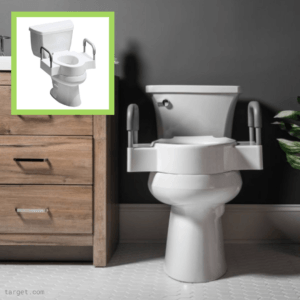 Invest in an Accessible Shower/Tub or Bath Chair
Accessible showers and tubs are equipped with the stability and support needed for safe bathing, as they are typically furnished with grab bars, adjustable shower heads, shower-safe seating, and easy entry/exit options. Although shower stools are a more budget-friendly option, it is recommended to choose more permanent and supportive options, such as wall-mounted bath chairs like those pictured below.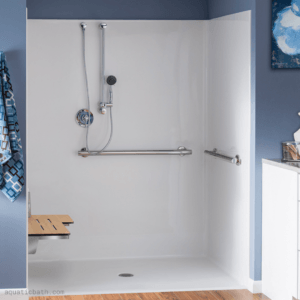 Hire a Caregiver
The assistance of a caregiver can ensure senior bathroom safety. A Place At Home offers in-home senior care services to keep your loved one safe from unexpected falls and assist with bathing and other daily tasks such as dressing and transferring from a bed to a wheelchair.

When you choose A Place At Home, you work with a team of qualified, compassionate care professionals who will ensure the highest standards of care are met. Your safety is our top priority. Contact us today for senior-focused care tailored to your loved one's needs — we are honored to help.