Enjalee Miller is A Place At Home – Philadelphia West's new Care Coordinator, and she's well suited for the role. She's been both a caregiver and a patient needing care, giving her a uniquely insightful perspective for the population they serve.
Enjalee became a Certified Nursing Assistant (CNA) back in 2013. She would further hone her skill set for the next nine years, working in different environments with different populations. Early in her career, she worked in nursing homes with seniors and in short-term rehabilitation facilities, helping people get back to independence after traumatic events. She also spent time working in group homes with a younger adult population that struggled with things like Schizophrenia and OCD. She spent a lot of time working with adults with severe autism and eventually even worked in pediatrics. Caring for people one-on-one became a passion.
"I loved it. It's really one of those types of jobs that's not for everyone. You get to see another side of people that you don't really see every day."
Enjalee's love of helping others started at a young age. Her mother's side of the family had generational health issues. Her great-grandmother wasn't well. She'd suffered multiple strokes and wasn't able to walk. Her daughter (Enjalee's grandmother) was also unwell and wasn't physically able to offer support. In the end, her great-grandmother had to move out of her home, and she passed away shortly after that. Enjalee's grandmother passed away at the age of 50, and like her mother before her, she had no one to support or help her. Losing two people with whom she was so close had a significant impact on Enjalee – it led her down a professional path of caring for others.
"That's where my passion started, with my grandparents. And with my mom, I thought, I don't want it to be like that. I want to be able to understand, to know what to do if she's ever in a place that she needs someone to help her."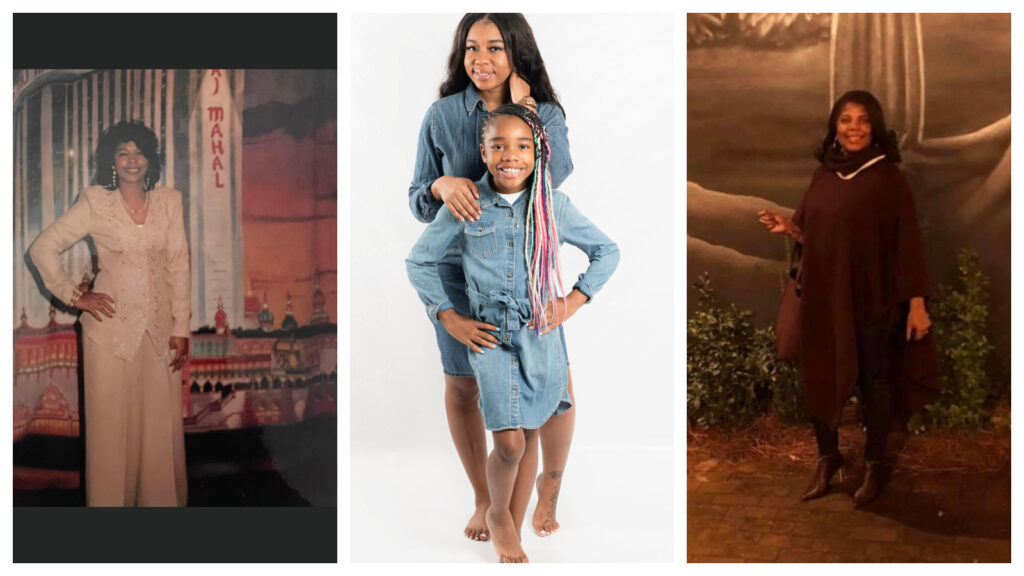 So Enjalee went to school and learned how to care for others. She didn't stop with her CNA. She earned certifications in different areas of care. She's certified in medical administration, defensive training, dialysis and holds certifications in clinical psychology. She did end up caring for her mom at one point, who has thankfully recovered since then. Enjalee would have furthered her education and career in nursing if given a chance. But in 2020, fate intervened. A drunk driver rear-ended Enjalee, and it was a severe accident – she came away from it with a severe spinal injury as well as a traumatic brain injury (TBI).
"I had to learn to walk again, and then I was in and out of rehab. I lost sight in my left eye. It took me a really long time to recover."
For Enjalee, recovery was a lot of physical and cognitive therapy. She had to re-learn how to do many things, and the TBI heavily impacted her short-term memory. She's left her car running all night because she forgot to take her keys out of the car altogether. Her house almost burned down because she forgot she was cooking. She says of the experience, "It was very bad, and it was very hard." She still gets headaches and migraines if she gets too frustrated, in certain lights, and if she's overtaxing herself mentally.
Another significant change that came after the accident? Enjalee went from being a caregiver to needing a caregiver.
That part was difficult. She says it made her sad because she was so young, and she couldn't do most things for herself. She was offered an in-home nurse but opted to lean on her sisters, her mom, and a couple of close friends. They helped her with everything – they bathed her, dressed her, fed her; they did everything she couldn't do for herself. And when they weren't there? Her daughter, who was nine at the time, helped her the best she could. "I care more for people than I care for myself, and my daughter is the same way. She's a little lady; she's just amazing."
A little over a year since her accident, Enjalee's healthcare team cleared her to return to work. She was overjoyed by the news; the lack of independence was difficult for her. Sadly, because of the injuries she sustained during the accident, she'll never be able to work as a nurse again. But she loves working as a Care Coordinator for A Place At Home – Philadelphia West. She says, "I love it. I see myself doing this for a long time." Enjalee plans to grow with the agency's owner, Dina Jenney.
"I love Dina. She's amazing, and being a part of this team – it's just so exciting."
Though she can't work on the nursing side of things anymore, Enjalee is thrilled to be working for a company that brings care to people in their homes. Home health has always been her passion, and after working in different types of care settings before her accident, she believes that care is better for people when it's in their own homes. "In-home care, you know what that person is like, you get to bond with that person, what they like, what foods they eat. If they're feeling down, you know what to do for them. It's like taking care of a relative, to an extent." In a facility, she says the residents are one of many. One nurse has 15 people to get up and out of bed and only two hours to do it. You're not spending time; you're just doing what needs to be done as quickly as possible. In the home, you're able to form a bond.
"A lot of people would rather be at home. It's where they're comfortable; it's where they trust people. They're dealing with the same person, the same face."
As a Care Coordinator at A Place At Home – Philadelphia West, her passion for taking care of others is still being fed – just in a different way. In this role, she's caring for the elderly and vulnerable by ensuring that they get the care they need and are matched with the right caregivers for their lifestyle and care needs. And she's taking care of caregivers – by making sure they have the proper training they need and by building relationships with them that encourage their growth and development. She says she tells them when they come on board, "Your job is more important than you think it is. You're going into someone's home. Some of them have lost most of their abilities; sometimes, they might be depressed because they don't have the energy they used to have. So you have to be mindful, you have to have a heart, and most importantly, you have to do your job."
Enjalee's professional and personal experiences have placed her on a path to impact the quality of life for others significantly. Her role as a Care Coordinator ensures that she'll be able to continue pouring into her passion for taking care of others.
If you have a passion for caring for others and are motivated to make an impact, A Place At Home – Philadelphia West would love to speak with you about a career in the senior care industry. Reach out to us to learn more!